Clear Bra Installers in Texas
Over 10 years ago car manufacturers switched from using oil-based to water-based paint. While this was great for the environment, it unfortunately made automotive paint less durable to scuffs and rock chips. To prevent scratches and rock chips while retaining the natural appearance of your vehicle, clear bra film can be applied to protect your paint.

Millions of people have a screen protector on their iPad, iPhone, or other smartphone device. Protecting your car from scratches and chips when hurtling down the freeway at 70mph should be just as important as protecting your phone.


Learning more about getting a clear bra is a good thing and we're glad you're here. Our goals are simple:

1) We want to educate car owners about the benefits and care instructions of a clear bra (FAQ here)
2) We want to connect car owners like yourself with clear bra installers like the ones below.

Dealing directly with the companies and people who provide the installation services helps you get clear information and saves you money by avoiding referral fees that are paid out to car salesmen and car dealers.
Enter your vehicle info for a quote!
Clear Bra Installers in Texas
San Antonio Area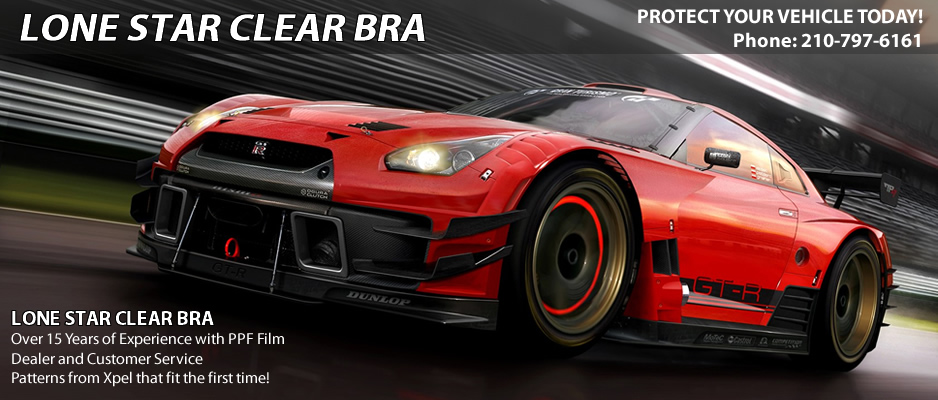 Lone Star Clear Bra
Phone: 210.797.6161
Address: 6384 Randolph Blvd Suite 200, San Antonio, TX 78233
Experience and Meticulous Service Counts!
Don't trust your new car to just anyone. Some installers are cross-trained from another industry. Just because someone is a good tinter, wrap installer, or detailer does not mean you can trust them with your new factory fresh paint job. That's why you need someone professionally trained and experienced to protect your rolling investment.


Dallas / Fort Worth Area
Speed Specialists LLC
15177 Business Ave
Addison, TX
75001
817.999.5925
Dallas Fort Worth Clear Bra
2415 E. Hebron Parkway.
Carrollton, Tx
75010
469.682.3497
Eclipse Solar Control, LLC
Mobile Service
Gunter, TX
75058
214.755.1851
Eclipse Solar Control
800 Fulgham Road
Plano, TX
75093
214.755.1851
Modern Armor
3308 Preston Rd
Plano, TX
75093
972.897.7373
Auto Designs
2780 Golden Triangle Blvd Suite C
FortWorth, TX
76177
817.313.0948
D & D Auto Tint
1716 E. Abram
Arlington, TX
76010
817.469.8468
Forcefield Paint Shield
714 Headlee St
Denton, TX
76201
940.390.9957
Audio Plus Acc.
1008 Woodrow Lane
Denton, TX
76205
940.484.7587
Houston Area
Super Shield
Mobile Service
Houston, TX
77014
832.668.0197
Trick Parts & Acc.
Mobile Service
Houston, Tx
77017
713.907.6058
X-Pert Tint
11231 Southwest Freeway
Houston, TX
77031
281.575.0371
Executive Motorsports
1208 Gessner
Houston, TX
77055
713.467.7000
Paint Protection Film of TX
1003 Terranova Lane
Houston, TX
77079
281.594.3006
Invisishield LLC
14750 Memorial Dr
Houston, TX
77079
713.539.6700
Gillman Mitsubishi South
10585 W. Sam Houston Parkway South
Houston, TX
77099
713.776.4950
Pinnacle Autoworks
Mobile Service
Spring, TX
77389
713.389.0980
Danna Services Inc.
Mobile Service
Spring,TX
77388
281.900.2929
Proteq Design, Inc.
11403 Brown Trail
Tomball, TX
77377
303.596.7830
Mobile Auto Detail
Mobile Service
Richmond, TX
77469
281.216.5833
Southern Texas Area
C & S Enterprises
4531 Ayers Suite 216 (mobile service available)
Corpus Christi, TX
78415
361.533.0693
The Auto Spa of the Rio Grande Valley
Mobile Service
Harlingen, Tx
78550
956.357.1032
Austin Area
Clear Fender Formerly
17602 Village Drive
Dripping Springs, TX
78620
512.587.9538